Our Services
Industrial Sewing Machine Repair & Maintenance
Ralph's Power Sewing Machine, Inc. offers complete service & rebuilding facilities for most industrial sewing/cutting and iron equipment. We have four mechanics to quickly service or rebuild your machinery. We also have a full-time Machine Shop to manufacture discontinued parts. We provide complete estimates on rebuilding.
Ralph's Power Sewing Machine, Inc. offers High Tech and Industrial machine shop tooling, grinding, and welding. Our motto is: "If it's machinable, we can produce it." With over 100 years of combined experience in our shop, we provide a level of expertise that is unmatchable in most shops. We also reproduce most obsolete mechanical parts, including parts for the industrial sewing industry, machine tools, and some aircraft hardware.
Our experienced mechanics are here to help you fix and service your machinery. So, if you need your sewing machine repaired, or if you need parts manufactured, give us a call today!
Call Us Today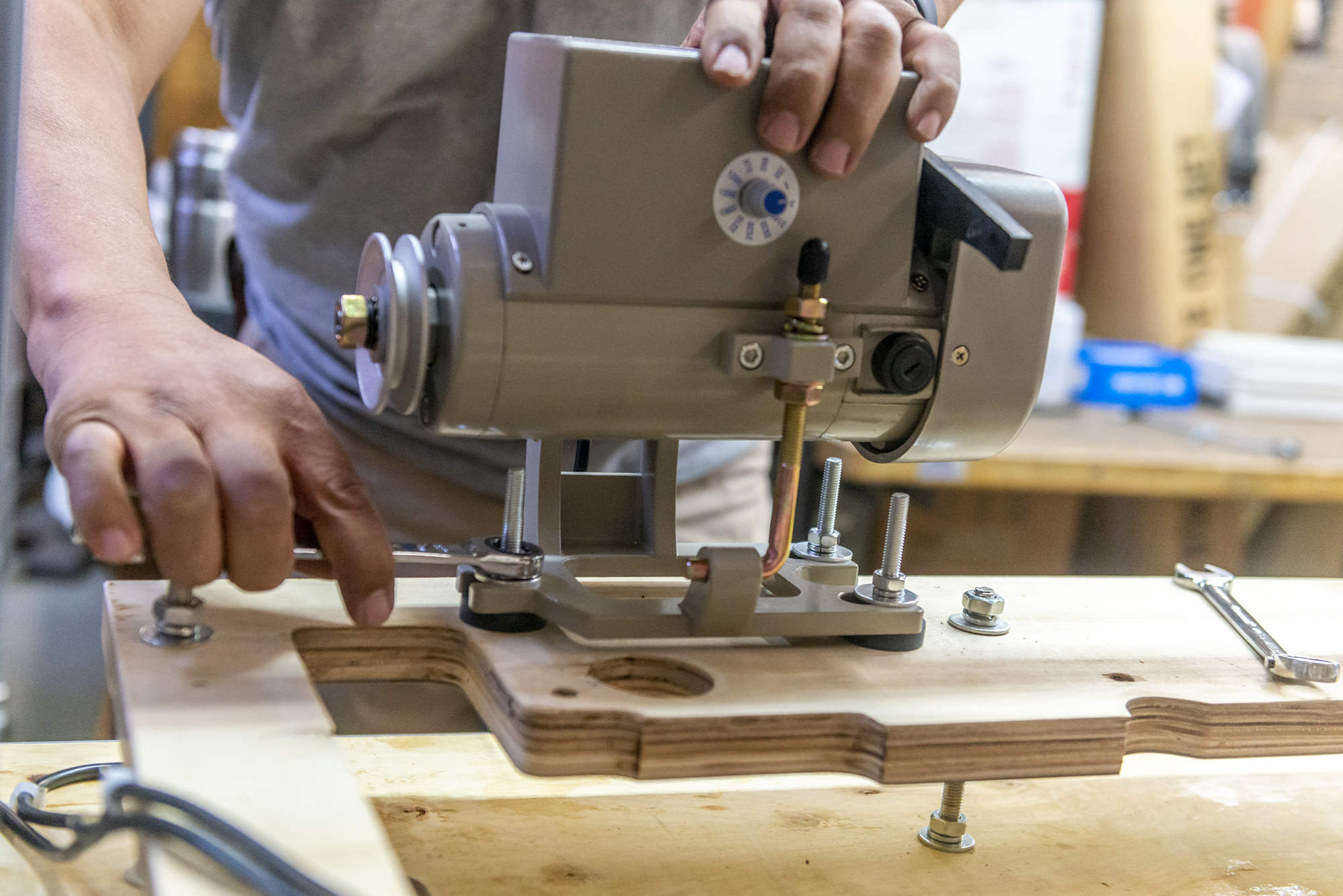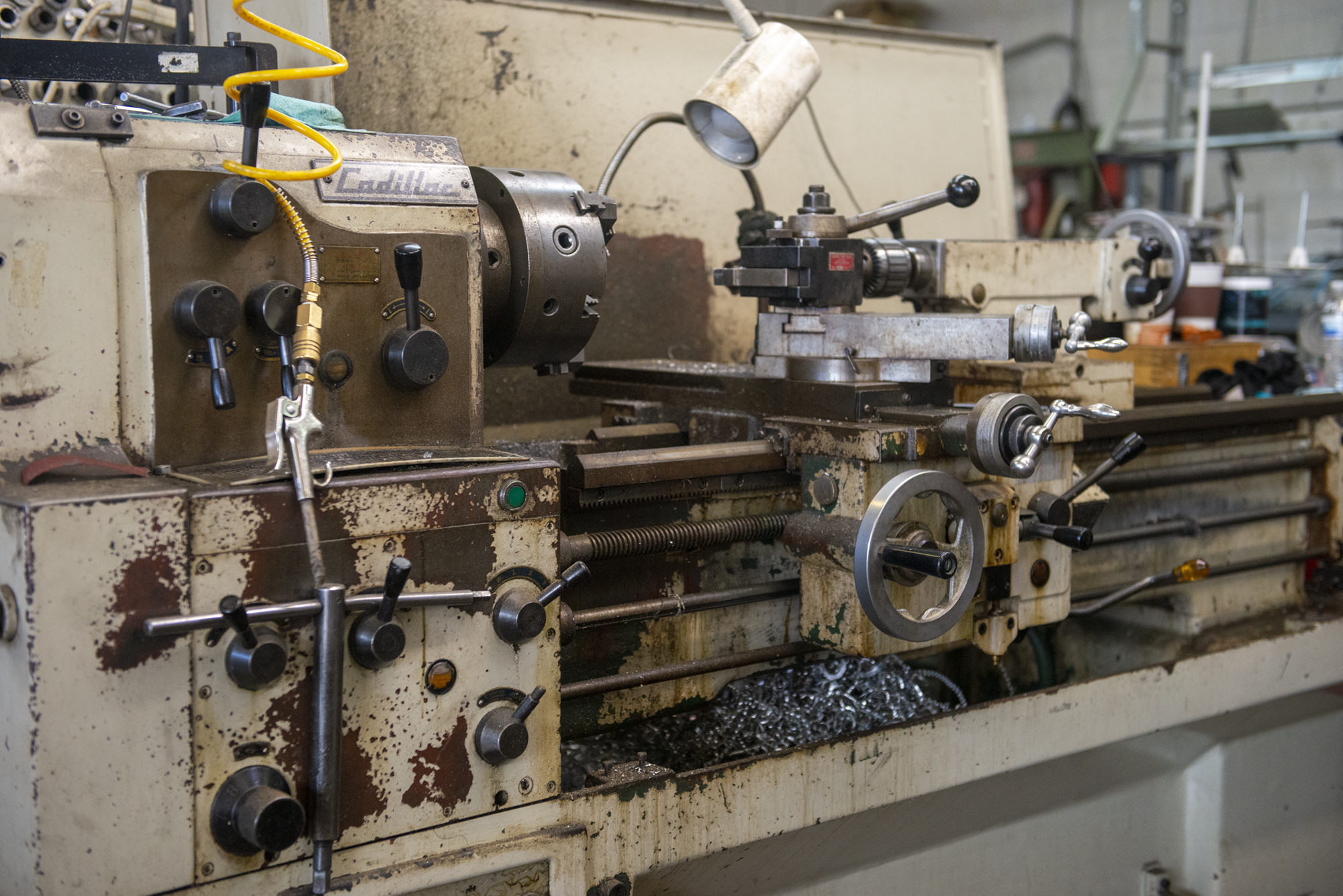 Custom
Parts Manufacturing
If your industrial sewing machine model has been discontinued, it can be difficult if not impossible to find replacement parts. If this is the case, don't delay! Give us a call today for an estimate on custom sewing machine part manufacturing.
Professional
Sewing Machine Repair
Has your machine stopped working, or is it underperforming? We understand how frustrating it can be to work with sub-par machinery. Our experienced mechanics can quickly repair all parts of your faulty sewing machine, and have it running smoothly.
Custom
Sewing Machine Mounting
Another service we offer is custom sewing machine tabletop mounting. We have a variety of materials for you to choose from. We can custom-build your sewing machine table to work best for you and your workflow.
Explore Our Services
We're Here to Help!
Whether you know exactly what sewing equipment you need, or if you're not sure where to begin, our experienced staff is here to help. Call us or stop by today to discuss your upcoming project, and let us provide you with the proper sewing machinery and tools for success!
Call Us Today
New & Used Sewing Machines
Since we understand the importance of meeting deadlines, we keep our inventory fully stocked at all times. Call us today to see what's in stock!
Machine Parts & Accessories
We have a variety of tools and sewing accessories in stock at all times. Also, we sell sewing machine parts for most models of industrial sewing machines.
Sewing Machine Repair
If you are having problems with your industrial sewing machine, we are here to help. Our team has years of experience working on a variety of makes and models. We can get your machine running properly in no time!
Expert Textile Advice
Since 1975, our team has helped a huge variety of textile manufacturing businesses achieve their production goals. We're here to offer advice if you need it!


















Ralph's Industrial is a great place for the sewing professional. We have had an ongoing relationship with the business for the last 5 years and they have helped us keep our company running. From new to used machines, repairs and equipment; this has been our one stop shop. I would highly recommend Ralph's Industrial to any fellow industry professional.
These guys have crazy knowledge! Jack and Joe were awesome to recommend a machine that worked for a variety of our needs. Their service department has came out a few times too (due to my ignorance) and helped very well. Jack is like an encyclopedia of machine knowledge too. Definitely worth giving these guys a shot.
I have been working with Ralphs for many years for all my sewing machine and sewing related needs. They have always been diligent with quick responses and technical help whenever I needed it. The best in the business and I'm lucky to have them.
This place is awesome! I ordered a double needle thinking it was what I needed. I found out soon after I received it that it was the wrong machine for my shop. My mistake. I contacted my salesman Joe who helped me trade it in for a long arm. No hassle at all. I'm in Iowa so they sent a truck with the new machine & picked up the double needle. Very, very happy now! They really supported the sale all the way through!
I can't thank Jaziel enough for going above and beyond to repair my double needle machine yesterday. He worked until the it was running smoothly again because he knew I was on a deadline to get orders out for Christmas. I am new to sewing and greatly appreciate Rueben always working with me and my lack of knowledge, Pat who is a whiz at timing and tension issues, and now Jaziel who is overly committed to the job and very knowledgeable. Thank you everyone in the service and repair department, you guys rock!!
A few months ago I purchased a new Kingmax sewing machine and it's awesome! They helped me work through it and offered good support since. Great place to purchase and they take care of their customers.
Everyone at Ralph's was so helpful. Joe made sure I got the machine best suited for my needs. The guys went through the machine to make sure I knew how to use it and then loaded it up for me. Highly recommend for all your heavy duty/commercial sewing needs!
I called on Saturday to see if I could get part from an old Chandler. Within 10 min they knew just what I needed! Very knowable and I'm very impressed! Got the parts on Monday can't wait to get it all together and going!! Big Thanks from Rhonda in Nebraska!! 5 stars!!!